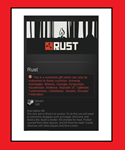 Rust = Rust Alpha = Rust Experimental

The only aim in Rust is to survive.

To do this you will need to overcome struggles such as hunger, thirst and cold. Build a fire. Build a shelter. Kill animals for meat. Protect yourself from other players. Create alliances with other players and together form a town.

Whatever it takes to survive.
Rust Is Rebooting
There are two different versions of Rust. When the game is launched in Steam, players are asked if they want to Play Rust or play the Experimental Version? The version that launches with 'Play Rust' is the version that most people know about and are currently playing. It is currently the most stable. However, the Experimental Version is the focus of the development team, and it will eventually take over from the main version when it has sufficient features and when the majority of players have moved over. We do not have a timescale for that.

Experimental is a complete rewrite of Rust. It isn't just a patch or an update. We've spent the past few months remaking the game from the ground-up, re-building it to enable us to fulfil our ambitions in a way that was impossible with the original release. This isn't unusual: games get rebooted all the time, but we're in Early Access and there's no way to hide that, nor would we want to. It's part of the process. We want to get the message out that we are working on Rust, just not on the version the majority of players are experiencing.

present
***************************
Get a gift, write "I want the key STEAM"
Every third positive comments get key STEAM!
Prizes are commercial games and not cheap promo ...

What do I need to start playing:
1. You need to download and install Steam
http://steampowered.com/about
(if not already installed);
2. Register your new account on Steam or go to an existing one;
3. obtained after the purchase link, copy and paste into your web browser, log in under your Steam account and take a gift to the library (that is activated on your account) or add in the inventory (ie, who will be a gift -nibud pass);
4. After activating the game will appear in the list of games and you can download it from steam.
=============
Dear customers - positive feedback from you to raise our rating, thereby increasing our sales and thereby making it possible for you to reduce the prices of our products!
=============
Note:
ru: All Gift Buy only through official channels (or treydabelnye netreydabelnye GIFT).
eng: All gifts are bought a legal way (tradable or untradable gifts)
05.06.2017 10:29:13
Все супер! Игра пошла! Автору уважение !
31.05.2017 4:38:19
Хиришо всё пришло заебца сосни хуйца!
хiрiшо!
07.05.2017 16:43:25
хочу ключ STEAM
08.04.2017 14:40:32
Хочу ключ steam
24.02.2017 19:36:45
Отлично!
16.02.2017 21:00:44
Нормас
13.02.2017 15:45:29
Спасибо продавцу все хорошо работает

11.02.2017 16:44:30
Большое спасибо продавцу, респект!
Товар получил мгновенно! Без заддержки, все активировалось!
Ещё раз, спасибо большое!
Хочу ключ STEAM
09.02.2017 19:39:05
Спасибо. Натупил с активацией продавец помог.
09.02.2017 9:26:56
Купил товар. Моментальная доставка без каких-либо неудобств. Очень благодарен вам! Спасибо большое!
23.01.2017 18:43:06
Всё отлично! Товар доставили! Хоть у меня и возникла проблема с активацией гифта (По моей вине), продавец помог мне устранить эту проблему. Спасибо большое!
16.01.2017 11:54:00
быстро четко
02.01.2017 15:26:55
Большое спасибо, игру получил, очень доволен)
хочу ключ STEAM
29.11.2016 6:38:10
super!
24.11.2016 17:35:59
хочу ключ STEAM , все пришло ) Спасибо огромное
21.11.2016 14:38:53
все работает отлично! хочу подарок!
21.11.2016 14:38:16
Все отлично!хочу подарок!
12.11.2016 14:16:59
Спасибо,все пришло!
12.11.2016 9:29:26
Good seller
11.11.2016 19:55:02
Код пришел моментально спасибо. Хочу подарок!
11.11.2016 19:17:25
вроде пришло) хочу ключ STEAM
10.11.2016 23:25:16
Все пришло сразу же! Отлично!Спасибо! хочу ключ STEAM
10.11.2016 19:36:58
Все круто)
09.11.2016 20:18:48
хочу ключ STEAM
09.11.2016 13:08:10
Спасибо все работает отлично хочу ключ STEAM
08.11.2016 21:08:27
хочу ключ STEAM
07.11.2016 21:35:12
Все отлично ,хочу ключ STEAM
07.11.2016 19:08:17
Всё круто! Советую. Сэкономил 200 рублей. Продавец класс! Хочу ключ STEAM!!!!!!! Спасибо!