Content: text (16 symbols)
Available: 1
Uploaded: 03.05.2018

Positive responses: 1
Negative responses: 0

Sold: 3
Refunds: 0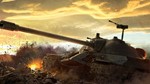 To confirm the order, give the manager a unique code that you will receive when purchasing the service.
Raising statistics on tanks 5+ level
The account must have an adequate amount of silver.
The account must have gold for dismantling the equipment.
The technology should have 3 modules (senders, fans, stabilizers)
On the account there must be a corresponding crew with at least 100% skill "6e feeling", in a simple light bulb.
When ordering, we are guaranteed not only a high percentage of victories but also top-end damage, experience and WN8
All additional questions and nuances ask the manager.
Remember, you are breaking the rules of the game by transferring acc to third parties.